Matt Mann is the principal owner. He is an Enrolled Agent and is actively involved in advising his clients financially. He hold his series 6,7,63, and 65 investment licenses. In case you are wondering what an Enrolled Agent is, here is a brief explanation:
An enrolled agent (EA) is a federally-authorized tax practitioner who has technical expertise in the field of taxation and who is empowered by the U.S. Department of the Treasury to represent taxpayers before all administrative levels—examination, collection, and appeals—of the Internal Revenue Service.
My Promise to You-100% Satisfaction Guaranteed.
An ethical business always takes care of its customers with honesty and integrity.
More than a philosophical perspective, we strive each day to make integrity a mainstay value, be honest with our customers and be trustworthy in all of our actions
I stand behind EVERY tax return that is prepared and filed in our office. I will give you one hundred percent satisfaction with our services. Our goal is to not only to be your tax preparer this year but for many years to come.

| | | |
| --- | --- | --- |
| | |  Dave Lewis founded The Original Tax Place on Main. He sold the business in 2011. You can still find him working in the office during tax season and periodically throughout the year when he is not attending to his other business interests. |
| | | Hunter Ramblin is our co-op from the University of Cincinnati. He is currently an accounting major and chose us to broaden his tax knowledge.  If you stop in and have a chance to meet him, he is 6'4″ so, now you do not have to ask. |
| | | |
| | | Jill Obermeyer-Reid is a graduate of The College of Mount St. Joseph with a Masters degree in Accounting. She also works in the accounting sector as Senior accountant for Castellini Management Company, a holdings company owned by Bob Castellini, owner of the Cincinnati Reds. Jill maintains credentials in Finance and Accounting. |
| | | Luca Romeo started with us in 2008 preparing taxes and helps us keep the whole office together. Luca is currently an International Business major at The University of Cincinnati. His father is a practicing CPA on the east side of Cincinnati. |
 The Original Tax Place on Main Street Llc. has over 50 years combined experience, as well as a CPA on staff. We offer personalized service in the preparation of tax returns. We not only do personal returns, but we also specialize in business tax returns – including: Sole Proprietors, Partnerships, Small Closely Held Corporations, and Limited Liability Companies (LLCs). We are particularly skilled in finding legitimate business deductions which are often overlooked.
We are located in one of the most historic areas of downtown Cincinnati. We're conveniently located and easy to find. Doing business with us is not only a benefit, but an event. Our office features local artisan crafts on display as well as an almost touristy location near a gourmet bakery (across the street), several unique neighborhood eateries, and even an antique shoppe!
Our business is and has been built on relationships. No two client's tax situations are the same. From the simplest to the most complex tax return, we give each client the same attention to detail. All of our clients know that they can call or stop in year round to discuss even the smallest tax issue. Also know we stand behind our clients in the rare case of an audit.
We've worked hard to provide a business that this community can trust. We believe hard work and trust are the cornerstone of ours and any other successful business. We look forward to serving you very soon!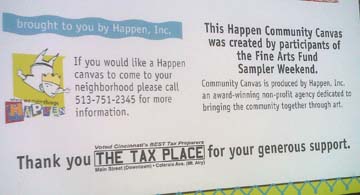 Every year The Tax Place on Main takes pride in giving to an organization that has does something special in the community. This year we have chosen Happen Inc. They operate art workshops for kids at no charge. Please check them out HERE.